Jamaica

topographic map

Click on the map to display elevation.
About this map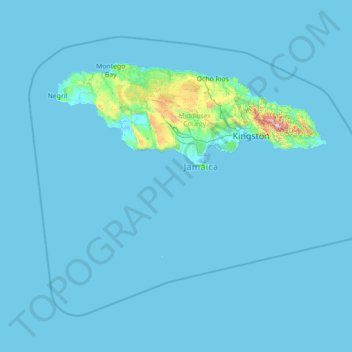 Minimum elevation: -2 m
Maximum elevation: 2,198 m
Coral reef ecosystems are important because they provide people with a source of livelihood, food, recreation, and medicinal compounds and protect the land on which they live. Jamaica relies on the ocean and its ecosystem for its development. However, the marine life in Jamaica is also being affected. There could be many factors that contribute to marine life not having the best health. Jamaica's geological origin, topographical features and seasonal high rainfall make it susceptible to a range of natural hazards that can affect the coastal and oceanic environments. These include storm surge, slope failures (landslides), earthquakes, floods and hurricanes. Coral reefs in the Negril Marine Park (NMP), Jamaica, have been increasingly impacted by nutrient pollution and macroalgal blooms following decades of intensive development as a major tourist destination.
Other topographic maps
Click on a map to view its topography, its elevation and its terrain.